Potty Training Time For Adult Baby Part 2!
March 28, 2017

Crissy Catches A Panty Sissy!
April 4, 2017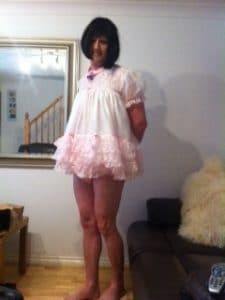 And after they're done taking your picture I am going to have one of the pretty girl change your adult diaper and then see how small your penis is! I still can't believe how small it is!  So she takes you by the hand and starts to change you and she notices your diaper sticking out a little bit  she giggles and finished taking the diaper off and notices your tiny wittle boner and she starts laughing and says " Now I know why your Abdl mommy keeps you in diapers with a peepee that size!  So she slides a new diaper on you and gets you dressed and says you know I have a great Idea! I am going to Have to have  my daughter baby sit you and she loves to play dress up".  That's a great idea I do need a babysitter when I go to work And he loves to play dress up! Call me for some Abdl Phone Sex!
Ava
888-430-2010
Or click HERE to chat with a Phone Sex mommy!
#sissy #publichumiliation #AbdlPhonesex
If you like this story click HERE for part 1